Digital Marketing
Agency Brisbane
Your Packaged Solution
Core Services
Offered.
We've done the hard work so you don't have to. Everything from setup, design creation and copy so you can sit back and reap the rewards.

Migration
Change platforms with ease.
Platform Setup
Work with your website.

Email Flows
Automate Customer Emails.
Content
Copy that sells more.
Design
Custom design templates.
Increase Sales
Using data to maximise growth.
The Platform Of Choice
Introducing Klaviyo for
Your Brand.
Klaviyo's software is at the cutting edge of email marketing for eCommerce enterprises. Here's what it brings to your business:
Reach your customers at the right time. Use dynamic marketing content based on their browsing activity. All in one click.
Klaviyo lets you target customers at any stage of their buying journey. Whether you're on first-name terms or they've just reached out, the software lets you create appropriate messaging for every customer.
This software transforms your data into a valuable asset, allowing you the ability to segment customers, build funnels and run campaigns effectively. Moreover, you'll be able to manage it all in one place.
Send marketing messages in real time based on consumer behaviour. Build customised profiles for your shoppers. Klaviyo's software incorporates numerous flows to help you connect with your customers.
Get Started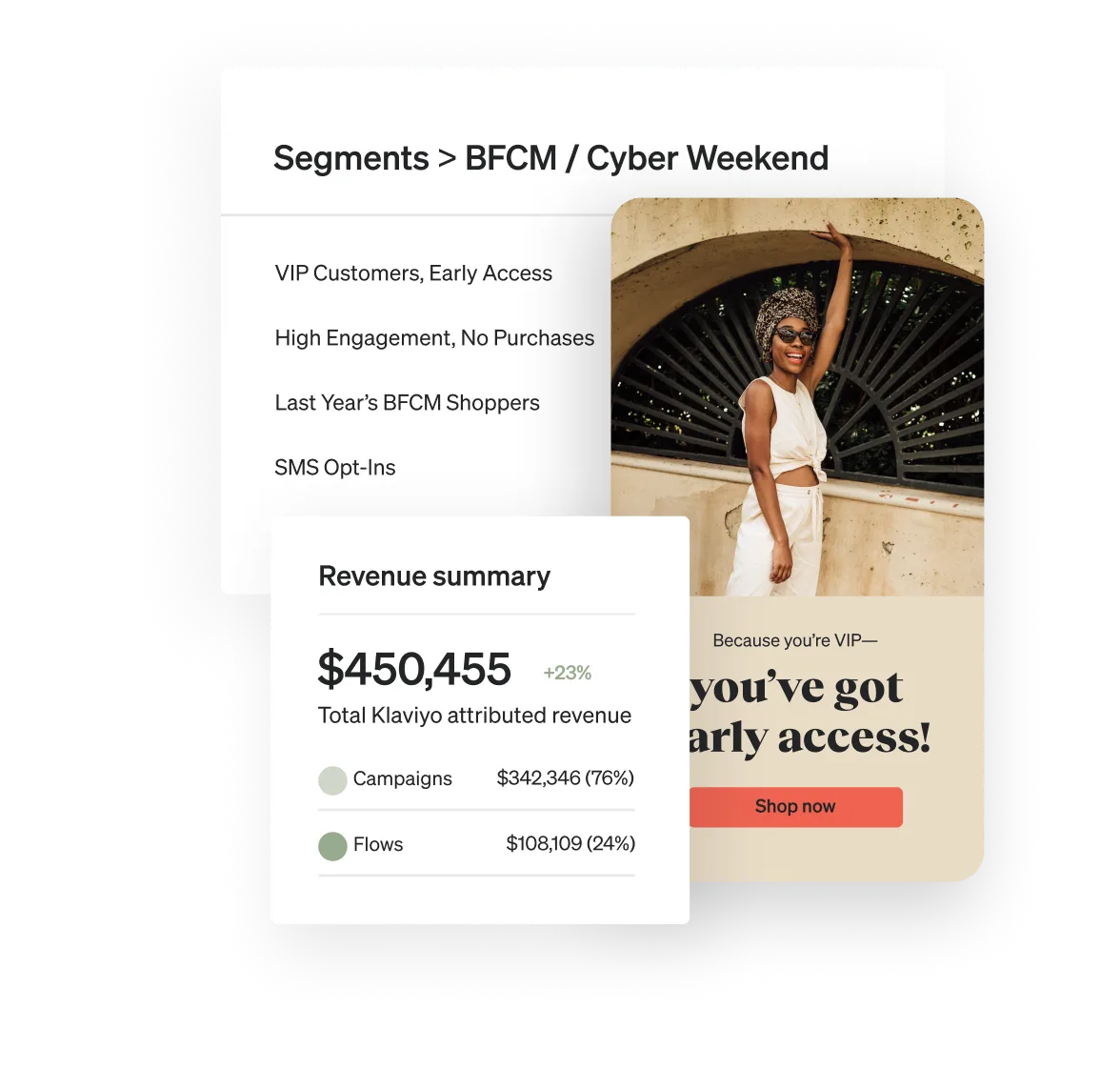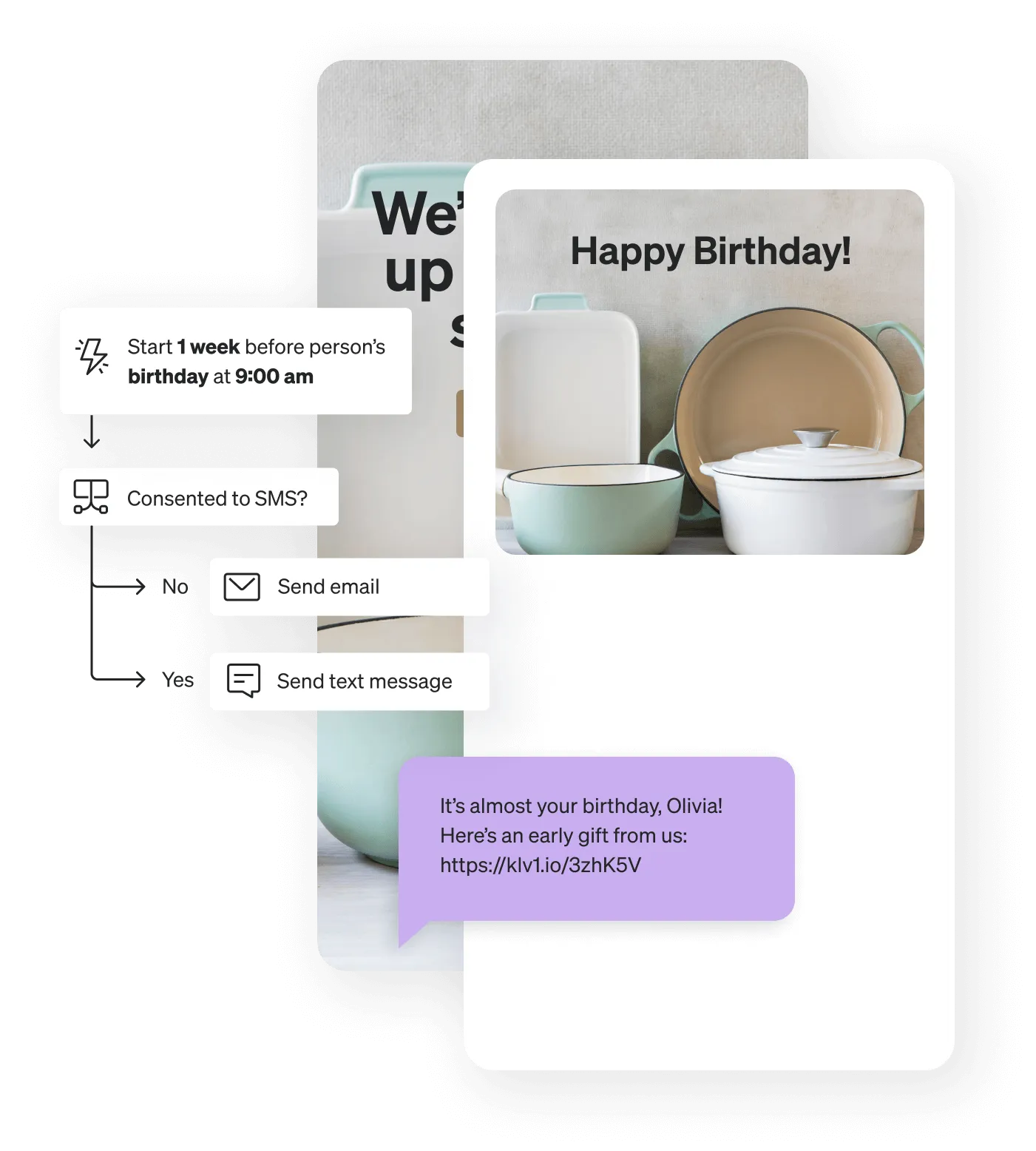 Sales Growth
Faster, More Effective
Email Marketing.
Email marketing is still the most effective online strategy for boosting sales. Your business needs to use it – but who has the time?
Messaging today needs to be personalised for the client. It needs to recognise where they are in their buying journey and help them take the next step. You need to guide your customers along the way – and now you can.
Save time with automated messaging. Put out messaging that sees your customers – it remembers their baskets, delivers personalised prompts, and identifies what they might like. Your eCommerce store can and should offer the VIP treatment.
SME's using email marketing.
Get Started
Power your brand
Stunning Custom
Design Templates.
SMS Marketing
Driving Lead Generation with SMS Automation.

SMS marketing is an effective, affordable way to remind your customers of flash sales and coupon codes. Customers "forgetting" that they were shopping with you doesn't have to be a fact of life. Remind them. Encourage them. Welcome them back.
You need to integrate fully automated SMS marketing into your eCommerce business.
Contact us now to get started.
Get Started
Your Digital Partner
We Are Your Full-Service
Australian Email Marketing Agency.
Back up your sales software by working with an expert team offering a full suite of digital marketing services.
Your website content needs to be relevant, consistent and visible. Professional SEO services can help with all three. Turn your website into a sales funnel – get in touch.
PPC Google ads are only as effective as their CTA. Identify your customer's needs instantly. Make your pitch.
Let's get to work.
Get ahead of the competition with eBay managed support services to optimise listings to maximise exposure and sales.